Management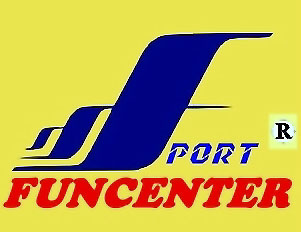 Logo Of Funcenter Sports Industrial INC. (Sports)
Solid Quality With Competitive Price.
We insist on R & D as well as automatic production to guarantee high-end poducts
to feed back our major customers in europe and other countries.
In order to provide best quality products to our customers, we have adopted precise &
advanced facilities and renovate them timely, We guarantee best quality at
competitive price.
Please feel free to contact us. Your answer is just a phone call or a fax away.
Payment Methods:
A). 30% Down payment before production, and the rest amount to be paid when B/L is
delivered. Or,
B). Irrevocable L/C At Sight.
Price Structures:
Each model has high-end and low-end categories. The high-end products have the
best parts (Usually made in Taiwan). The low-end ones have the best price with
economic components (Usually made in China) at solid quality.
Shipping Cost:
We quote prices in FOB Yantian and Shanghai or Taiwan only. To get the shipping
charges from these port to your destination, Pls Visit -
1.) www.MaerskSealand.com
2). www.apl.com
3). www.norasia.com
4). www.ponl.com
Samples:
Samples can be made at your request.
They can be developed either from specifications or from photos.
Each sample require US$80.00 sample development fee besides its base price.
The US$80.00 will be fully refunded back to you at the time order is placed.
Spare Parts:
We provide 0.3% ~ 1.0% (Difference on differient items) of spare parts free of charge
in each order.
History
| | |
| --- | --- |
| 1990/4 | Established Ting Top Industrial Co., Ltd. For Outdoor Sports in Taiwan. |
| 1994/6 | Set Up First Products Line At Dong Guan In China For Outdoor / Indoor Sporting Goods' Manufacture, Such As Inlin-Skates, All Kind Of Skateboard & Protect Gear Sets Etc. |
| 1995/10 | Merge With Yin E Mold INC. In Taiwan, Also Re-Name To Yin E Mold Co., Ltd. (Taiwan). |
| 1997/1 | Established Funcenter Industrial INC. (Sports) For Complete Scooters And Kids Bicycle Also Snow Hiking Shoes And Winter Outdoor Sporting Goods In Taiwan. |
| 1997/5 | Established And Set Up Second Products Line At Dong Guan In China For Complete Kids Bicycle's & Scooters' Manufacture. |
| 1998/1 | Ting Top Industrial Co., Ltd. & Funcenter Industrial INC. And Yin E Mold Co., Ltd. Merge With Richkey International INC. (BVI) |
| 2003/2 | Sold Out Complete Kid Bicycles' Business And Products Lines In China. |
| 2003/3 | Liven Sportss MFG. (Taiwan) Co., Ltd. Merge With Richkey International INC. (BVI) |
| 2003/5 | Established Ting Top Industrial Co., Ltd. Conglomerate / Group At Taipei, Taiwan. |
| 2003/8 | Merge With |
| 2003/10 | Set Up Third & Fourth Products Lines At Xiamen In China For Outdoor/Indoor Sporting Goods' Manufacture, Such As Inlin-Skates, All Kind Of Skateboard & Protect Gear Sets Etc. |
| 2004/3 | Set Up Sixth Products Lines At Xiamen In China For Manufacturing Orthopedic & Rehabilitation Soft Goods. |
| 2005/1 | Set Up Snow Hiking Shoes & Winter Sporting Goods Product Line At Dong Guan In China |