Product
Adjustable & Foldable Air Pogo Sticks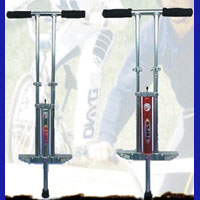 Air Jump Pogo Stick.
Product ID: Air Jump
Aluminium Cool Air Jump Pogo Stick With Adjustable Height Feature.
Specifications:
The Cool Air Adjustable Pogo Stick.

Ensure That The Welds On The Handlebars Are Not Cracked Or Damaged At Any Time. If The Welds Are Damaged They Must Be Repaired Before Using Again.
The Cool Pogo Has Clip On Grip.
Press The Button On The Grip To Release From The Pogo. To Put On The Pogo Press Button And Find The Hole On The Handle, Place Button Over Hole And The Button Will Clip Into A Firm Position For Use.
The Steps Can Fold Up When Not In Use.
There Is A Button On The Handle Pole Which Must Be Placed Into The Holes On The Pogo Stick. These Are Set Heights.
To Adjust The Pogo Height Simply Turn The Twisting Clamp Situated Above The main Pogo Frame. Always Ensure That Clamp Are Tightened Before Use.
Order Information:
Minimum Order: On 1x40Ft Full Container Per Style / Desing.
OEM/ODM Product, Branded Product, Buyer's Label Offered
FOB: Yantian, China