Product
6Inch Children 3 Wheels Foot Scooter DLX Type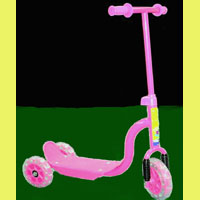 FUN-6YSS-9 Foot Scooter.
Product ID: FUN-6YSS-9
For Age 3~7 Only.
Specifications:
Full CE Standard Children's Foot Scooters :

6"x5" Singl Steel Frame Childred Foot Scooter.
Steel Frame & Fork With Color Painted CO2 Welded.
Colors : Navy Blue, Baby Blue, Pink, Black, Orange & CP Etc.

Handle Bar :

"T" Type Steel Handle Bar.
Color Painted With Mushroom's Grip.

Durable P.P. Reinforce Footboard With Color Painted.
3-PLY Painting & Baking Process.
Wheels & Rim :

Unique Transparent P.P. /R-DB Rim With Durable PVC Tires/Wheels (Front 6" + Rear 5").

Super DLX Type Series :

AA). Steel CP (Chrome Plated) Frame, Fork & Handle Bar Etc.
BB). Transparent PVC Injection Wheels With LED Flash Light Inside.
CC). P.P. Reinforce Footboard With LED Flash Light.

Accessorys (Option):

AA). Front Plastic Basket & Also With Cross Bar Pad.
BB). Handlebar Decoration & Also With Unique Horn.
CC). With Or Without Color Painted Wheels Covers.
Features:
English Version's Manual.
Packing:

Assembly : 90% SKD Per Set, Each Set With Poly Bag.
Quality : 4 Sets Per 5-PLY Export Carton.
Dimension : L:58.5cm W:47.0cm H:57.5cm Per Carton.
Measurement : 0.15810 CBM Per Carton.
Weight : N.W.:7.00kg, G.W.:8.00kg Per Carton.

Quantity :

On/About 708 Sets (177 Cartons) By 1x20' Full Container.
On/About 1,417 Sets (354 Cartons) By 1x40' Full Container.
Order Information:
Minimum Order: On/About 708Sets (177Ctns) On 1x20' Full Container, Per Color, Per Style, Per Shipment.
Branded Product, Buyer's Label Offered
FOB: Yantian, China + Taiwan