Product
High Speed Semi-Soft Boot Inline Skates.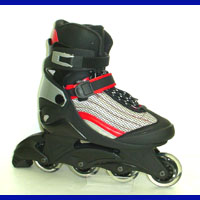 89G092P Silver Black - Year 2004 New
Product ID: 89G092P
Specifications:
Unique And Hi-Quality Semi-Soft Boots.
One PU Power Strap With Verco And Shoe Lace Closure.
One Durable Auto Locking Device Buckle.
Inner Shoes With Nubuck PVC Leather And Double MESH, +6mm EVA, +6mm Foam.

Colors For :
1). Silver Black.
2). Silver Blue.
3). Black.

Surlny Molded Tongue.
Durable P.P. Reinforce Chassis BK Or Silver Coated Along With 1pc TPR Heel Stopper.
Wheels And Bearings :

Translucent 82A Hi-Rebound Polyurethane Casting Wheels.
With Full-Precision ABEC Chrome Or Carbon Bearings.

Hi-Robound Wheels :

Shoes Size #33 ~ #39 With 82A PUC Wheels 72x24mm.
Shoes Size #40 ~ #45 With 82A PUC Wheels 78x24mm.

Metal Washer And Metal Spacer.
Packing:

1pc With Poly Bag.
1pr With Color Printing Box.
4prs/5-PLY Export Carton.
M'ment: 4.12' / Per Export Carton.
Certificate:
EN71
EN13843
Full CE Standard
Order Information:
Minimum Order: About 1,992prs (498 CTNs) For 1x40F Full Container Per Style / Desing.
Branded Product, Buyer's Label Offered
FOB: Yantian, China