Product
"Ocelot" Series - Special Semi-Soft Boot CNC Aluminium Inline Skates
89A502A - Year 2004 New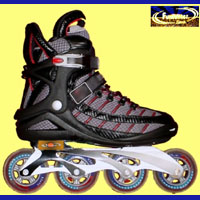 89A492A - Year 2004 New
Product ID: 89A502A & 89A492A
Year 2004 New Ventilration System's Semi-Soft Boot With Unique 6061 T6/A15 CNC Aluminium Alloy Frame Inline Skates!!!
These skates will have your engine on overdrive.
All series with "Ventilration System" and inner shoes also with "DuPont - CoolMax" material.
All series boot upper with "3M - Scotchilte Reflective" Material.
They're designed with unique & high performance 6061 T6/A15 CNC aluminium alloy chassis alongwith --
Milk/Silver 86A Or 78A Super Hi-Rebound PU Casting Wheel, 84x24mm And/Or 80x24mm. (Option : Aluminium stop frame along with durable TPR stopper)
Durable & High Performance "S & S" ABEC-7 Chrome Bearing.
Certificate:
EN71
EN13843
Full CE Standard
Order Information:
Minimum Order: About 2,164prs (541 CTNs) For 1x40Ft Full Container Per Style; Desing & Per Shipment.
Branded Product, Buyer's Label Offered
FOB: Yantian, China