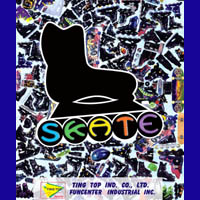 Funcenter Sports Industrial Co., Ltd.
Funcenter Sports Industrial Co., Ltd. was established in the 1990. As a manufacturer of outdoor/indoor sporting goods such as
Inline Skates, Roller Skates, Skateboard, Protection Gear, Snow Hiking Shoes, Sledge & Ice Skate Etc., also parts and accessories.

We have been more then 10 years experience not only to produce and develope these
outdoor/indoor sporting items, and also support our good relationaship to help customers
look for trading items.

We guarantee best quality, high-end products at competitive price and on time delivery
are our policy.

Please feel free to contact us. We wish can serve you at any time and hope have a good
start with you, your company.
more