Product
Unique 7 Wheels Special Skateboards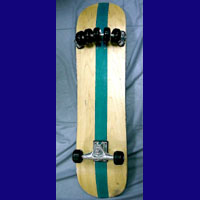 3108A-7C 100% Canadian Maple Deck.
Product ID: 3108A-7C
Unique 7 Wheels High Quality 2 In 1 Skateboard.
Specifications:
3108A 7 Wheels Special Skateboard :

31"x8" 11mm 100% Canadian Maple 7-PLY Deck, Twin Kick Skateboard.
Canadian Maple Original Color / Without Any Painting.
Black Anti Slip Tape On The Front Side With One Color Painting.

5" Heavy Duty Polished Aluminium Truck And Base With PU Cushion.
ABEC-3 Carbon Bearing.
Wheels :

Semi-Clear Casting PU 54mmX36mm And 56mmX24mm 90A Wheels.

Sister Modle For Promote :

3108A-7CA / 7-PLY China Maple Deck, Twin Kick Skateboard.
3108A-7CC / 2-PLY Canadian Maple Deck Both On The Front And Rear Side, 5-PLY China Maple On The Middle.
Features:
Packing:

1 Piece/Skin Packing.
4pcs/3-PLY Export CTN.
G.W. 11.2kgs/Per Export CTN.
M'Ment. 2.17'/Per Export CTN.
Certificate:
EN71
EN13613
EN13613B
EN13613A
Full CE Standard
GS
Order Information:
Minimum Order: 1x20F Full Container / Min. 500 Pieces For Each Style.
Branded Product, Buyer's Label Offered
FOB: Yantian, China