Product
"Infinity" Series Semi-Soft Boot Aluminium Inline Skates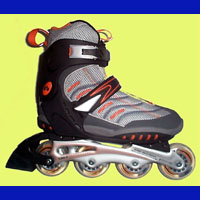 89C432A "Infinity" - Special With DuPont's CoolMax - Year 2004 New
Product ID: 89C400 Series
Unique "Infinity" Series - Year 2004 New Special Semi-Soft Boot Plate Aluminium Inline Skates !!
Also Within DuPont's "CoolMax" And / Or Also With 3M's "Scotchlite" Reflective Material At Inner Shoes And Shoes' Upper !!
Specifications:
Unique Semi-Soft Boot.

With 3M"s "Scotchlite" Reflective Material Upper.
Shoes Size :
EU : #36 ~ #45
UK : #3.5 ~ #10.5
US : #4.5 ~ #11.5
Mondopoint cm :22.5~29.5

H/Q's Slide-In Auto Locking Device Buckle.
Durable PU Power Strap With Verco And Shoes Lace Closure.
Breathable And Hand Washable Inner Shoes.

Inner Shoes Also With DuPont's "CoolMax" Material.

With Nubuck PVC Leather And MESH + EVA + Foam; Surlny Molded Tongue.
High Performance 6061 T6/A13 Plate Aluminium Frame Along With One Piece Durable TPR Heel Stopper.
Translucent 80A Or 82A Hi-Rebound Urethane Casting Wheels 78x24mm Or 80x24mm.

Within Full-Precision ABEC Chrome Or Carbon Bearings.
Durable Metal Waher And Metal Spacer Inside.

Packing :

Each Piece With Poly Bag.
Each Pair With Color Printing Box.
4prs With 5-PLY Export Carton.
Certificate:
EN71
EN13843
Full CE Standard
Order Information:
Minimum Order: About 2,164prs (541 CTNs) For 1x40Ft Full Container Per Style; Desing & Per Shipment.
Branded Product, Buyer's Label Offered
FOB: Yantian, China