Product
Junior Adjustable Semi-Soft Boot Inline Skates.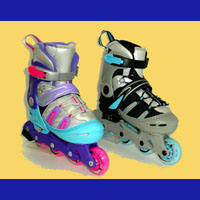 3C1402 Junior - Girls + Boys' Semi-Soft Boot Adjustable.
Product ID: 3C1402 Series
The "3C1402" (Blue+Gray, Pink+Blue, Blue, Pink) Junior Series For Boys And Girls Fun Styles Year 2004 New!!
All these are perfect for the first time skaters.
Unsurpassed support, easy fit and supper comfort provide these little skaters with all the things they need to have fun.
Affordably priced, these "3C1402 Junior" series expands three sizes per model and with simplicity and without any tool's adjustment.
Specifications:
Unique & Easy Adjustable Semi-Soft Boot Under 2 Models And 4 Sections' Adjust.

S-Model Adjust Size Range Between EU #29, #30, #31, #33. With Clear TPR Wheels Or PU Casting Wheels 64x24mm.
L-Model Adjust Size Range Between EU #33, #35, #36.5, #38. With Clear TPR Wheels Or PU Casting Wheels 70x24mm.

One Piece Durable Clip Buckle Locking.
Also With One Piece Power Strap And Shoes Lace Closure.
Surlny Molded Tongue.
Unique And Durable Reinforce P.P. Chassis Along With 1 Piece TPR Heel Stopper.
Durable TPR's Rebound Wheels With Full-Precision ABEC Carbon Bearings.
Normal Washer And Spacer.
Packing :

Each Piece With Poly Bag.
Each Pair With Hand Carry Box.
TTL. 6 Pairs Within 5-PLY Export Carton.
M'Ment : 4.03'/Per Export CTN.
Order Information:
Minimum Order: About 3,498prs (583 CTNs) For 1x40F HQ Full Container Per Style, Per Shipment.
Branded Product, Buyer's Label Offered
FOB: Yantian, China