Product
"Infinity" Series Semi-Soft Boot Aluminium Inline Skates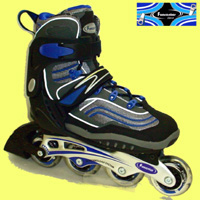 89C422A "Infinity" - Year 2004 New Series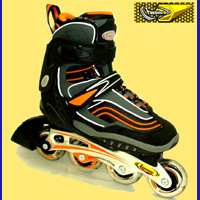 89C412A "Infinity" - Year 2004 New Series
Product ID: 89C432A +89C442A
Unique "Infinity" Series For Year 2004 New Special !!
Also Within DuPont's "CoolMax" And / Or Also With 3M's "Scotchlite" Reflective Material At Inner Shoes And Shoes' Upper !!
Features:
Speed On Urethane Wheels!! These High-Speed & Unique Semi-Soft Boot Inline Skates

They're designed with high performance 6061 T6/A13 plate aluminium chassis within durable translucent 80A or 82A hi-rebound polyurethane casting wheels 78x24mm or 80x24mm.
All series with "Ventilration System" and inner shoes also with "DuPont - CoolMax" material.
All series boot upper with "3M - Scotchilte Reflective" Material.
And Also Within full-precision ABEC Chrome or Carbon bearings.
Certificate:
EN71
EN13843
Full CE Standard
Order Information:
Minimum Order: About 2,000prs (500 CTNs) For 1x40Ft Full Container Per Style / Desing/Per Shipment.
Branded Product, Buyer's Label Offered
FOB: Yantian, China