Product
"SpeedRunner 2004" Series Semi-Soft Boot Aluminium Inline Skates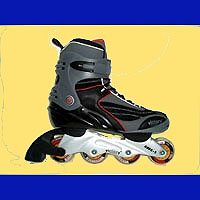 89L6310A - Year 2004 New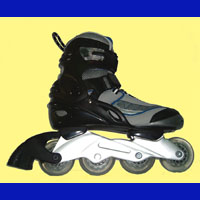 89L6320A - Year 2004 New
Product ID: 89L6310A + 89L6320A (89L6300 Series)
Unique "SpeedRunner 2004" Series For Year 2004 New Types/Styles.
All Series Could Be With High Performance 6061 T6/A13~A15 CNC Aluminium Frame Or Unique 6061 T6/A13 Plate Aluminium Frame Or/Also With Durable Hi-Tech P.P. Reinforce Frame Etc.
Features:
Fast and flashy unique inline sporting roller shoes for outdoor fun!!
Durable nubuck PVC leather with MESH + EVA + Foam upper with durable slide-in locking device buckle and also with lace closure.
Unique and high performance 6061 T6 plate aluminium frame.
Translucent 80A or 82A polyurethane casting wheels 78x24mm or 80x24mm.
Within full-precision ABEC Chrome or Carbon bearings.
Certificate:
EN71
EN13843
Full CE Standard
Order Information:
Minimum Order: About 2,000prs (500 CTNs) For 1x40Ft Full Container Per Style / Desing/Per Shipment.
Branded Product, Buyer's Label Offered
FOB: Yantian, China